Quality dinghy covers and boat covers from Wave Loft.
Wave Loft manufacture and supply a wide range of textile based prodcuts for the boat enthusiast.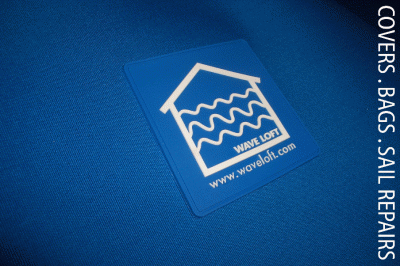 Wave Loft can provide you with dinghy and boats covers, canopies, sail bags, foil bags, mast bags, winter storage covers, sail/boom covers, dodgers, binnacle and console covers, clew straps, hatch covers, winch covers, hiking straps and other custom made textile based solutions for your boating needs. We provide covers for dinghies, catamarans, yachts, motor boats, RIBs, jet skis and other forms of personal water craft.
We are continuously expanding our product list, so check out the catalogue to see what's new. GO TO DINGHY CATALOGUE

At Wave Loft we apply good Design with appropriate Materials selection and best practice Construction techniques to all our in-house manufactured products. Our aim is to provide competitively priced, easy to use prodcuts that deliver what they are supposed to.
All our covers are manufactured in house at our workshop based near Falmouth in Cornwall (GBR). We pride ourselves on meeting our customers needs and offer an 18 month guarantee on all our Dinghy Covers. We provide excellent after sales care and will help wherever we can to ensure that our products work for you.
Wave Loft also offer a Cover and Sail repair service. The useable life of most covers and sails can be extended through regular maintenance, and repair of faults and damage before they become terminal.
Whether you need a new boat cover, yacht canopy, or sail bag, or a boat cover or sail repaired we have what you need at prices you can afford. At Wave Loft our goal is to provide you with courteous, expedient, professional service of the highest calibre.
Browse our Web site for more information about Wave Loft.
If you have any questions or would like to speak with a Wave Loft representative regarding our boat products and repair services, please e-mail us at info@waveloft.com.
At Wave Loft, the customer always comes first.
Website: http://www.waveloft.com/