This weekend saw two days of Contender racing at the IJsselmeer, off Medemblik. That's where we will have our World Championship six weeks from now. Twelve boats showed up, including Walter Baudisch from Germany and Roel Peerlinck from Belgium, eager to hone their skills on the Medemblik chop.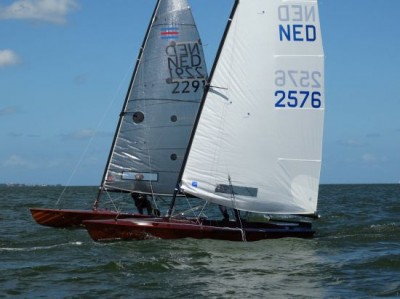 Foto: Carolien Kramer-Van Den Broek
On Saturday we had three races, in a 15-17 knot westerly breeze, swinging about 15 degrees back and forth. So plenty of chance to get totally lost and crawl back the next beat. With Winfred and Bart capsizing on the start, Paul could get away and win the first race by a considerable margin, with Rik taking second. The second race was for Mark, with Paul second and good old Jan van Wiggen in third. Next was a race with some trading places, that was decided at the last bottom mark: while rounding, a massive gust hit the leaders. Rik got round clear and away, Bart took a swim but recovered to second place. Paul crashed as well and scored his discard. At the end of day one it was Paul leading, over the three Thorborg brothers and Winfred in fifth. Time for a happy hour and a decent meal at the inevitable Brakenboer café.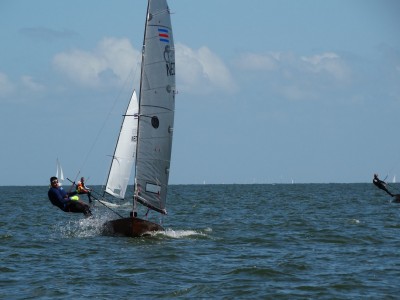 Foto: Carolien Kramer-Van Den Broek
Next morning was sunny again, with a little less breeze from the north west, swinging a bit more and a bit more variable. So tricky conditions, to say the least. That's where Winfred comes in. Mark was in the lead from the start to half way the downwind, but Winfred took over. At the finish Paul sneaked in to take second place. In the second it was Bart's turn to take the lead, but he was reigned in as well by Paul and Winnie. With one race left it was pretty tight, although Paul's chances were best. Paul and Winfred opened up some gap, but on the run Jan caught up on both and Bart overtook Paul by picking the better side. Jan secured first to become the fifth individual race winner in six raced. Bart passed Winfred on the beat to take second.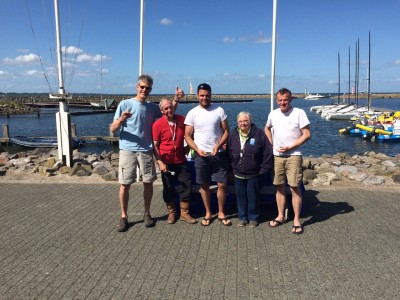 Foto: Jantine Vogel
So we had a great test of the waters, the race committee and the local bar. The Dutch are ready to welcome you next month at the Pre-Worlds and the Worlds.
Bart Thorborg
Contender NED 3 It's Only Rock 'n' Roll…
Uitslag Contender
Punten houden rekening met 1 aftrekwedstrijd
| No | Zeilno | Naam | Punten | 1 | 2 | 3 | 4 | 5 | 6 |
| --- | --- | --- | --- | --- | --- | --- | --- | --- | --- |
| 1 | NED 9 | Paul Verhallen | 10,0 | 1 | 2 | (5) | 2 | 1 | 4 |
| 2 | NED 2576 | Winfred Westerman | 12,0 | 3 | (5) | 3 | 1 | 2 | 3 |
| 3 | NED 3 | Bart Thorborg | 15,0 | 4 | 4 | 2 | (6) | 3 | 2 |
| 4 | NED 2291 | Jan van Wiggen | 19,0 | (6) | 3 | 6 | 4 | 5 | 1 |
| 5 | NED 2 | Mark Thorborg | 19,0 | 5 | 1 | 4 | 3 | (6) | 6 |
| 6 | NED 1 | Rik Thorborg | 25,0 | 2 | 6 | 1 | (9) | 9 | 7 |
| 7 | GER 504 | Walter Baudisch | 35,0 | 7 | 7 | (8) | 8 | 8 | 5 |
| 8 | BEL 1722 | Roel Peerlinck | 36,0 | 8 | (9) | 7 | 5 | 7 | 9 |
| 9 | NED 2308 | Cees de Gruijter | 45,0 | 10 | 10 | 10 | 7 | (12) | 8 |
| 10 | NED 2426 | Pim Langendijk | 46,0 | 9 | 8 | 9 | 10 | 10 | (dnc) |
| 11 | NED 2156 | Wim Tak | 51,0 | (dns) | dns | dns | 11 | 4 | 10 |
| 12 | NED 207 | Rep Boonstra | 61,0 | (dns) | dns | dns | dns | 11 | 11 |